Mic IVD - Registered and ready to deploy.
The world's first magnetic induction cycler is now a registered medical device with CE-IVDR and TGA approval. Mic IVD is manufactured under an ISO 13485:2016 Quality Management System.
REQUEST A DEMO
Get accurate results, quickly and
easily, in the lab or on-the-go.
Feel confident in
your results
The Mic delivers unrivalled reproducibility between samples, runs and instruments so you can be confident in your results.
Get results
in less time
If COVID-19 has taught us anything, it's that time is critical during an outbreak. Completing runs in under 40 minutes is the new standard with Mic, not the exception. Maintaining assay performance even at speed ensures you can trust that data.

Intuitive software for
easy use
Still the same plug-and-play format, with IVD features including CFR 21 part 11 traceability, export functionality to LIMS, user permission levels and full validation as required by a medical device.
Molecular diagnostics
anywhere, anytime.
It's a new world of diagnostics after COVID-19. Speed and portability are essentials not conveniences. At 2kg this is the most portable and compact qPCR IVD on the market. No servicing required.
TGA and CE-IVDR
The Mic IVD instrument is intended to be used with CE-IVDR registered clinical diagnostic qPCR kits to provide detection of nucleic acid sequences in human-derived specimens. The Mic IVD instrument is intended for in-vitro diagnostic use by trained laboratory technicians and pathologists to interpret the results to make a clinical diagnosis.
Mic IVD can be sold in the following countries:
EU
Austria, Bulgaria*, Belgium, Cyprus, Estonia#, France, Germany, Iceland*, Ireland, Italy, Latvia*, Liechtenstein, Lithuania#, Luxembourg, Malta, Netherlands*, Norway*, Poland*, Portugal, Slovenia*, Spain, Switzerland (CE-IVDR)
UK (MHRA)
*English is an accepted language by the user (for professional use).
#Coming Soon

Asia-Pacific
Australia (TGA)
Indonesia (MoH)
Japan (PMDA)
Korea (MFDS)
Malaysia (MDA)
North America
United States (FDA)#,
Canada (Health Canada)#
#Coming Soon
Other
Colombia(INVIMA)
Iran (IMED)
Turkey (TMMDA)#
Uruguay (MSP)#
#Coming Soon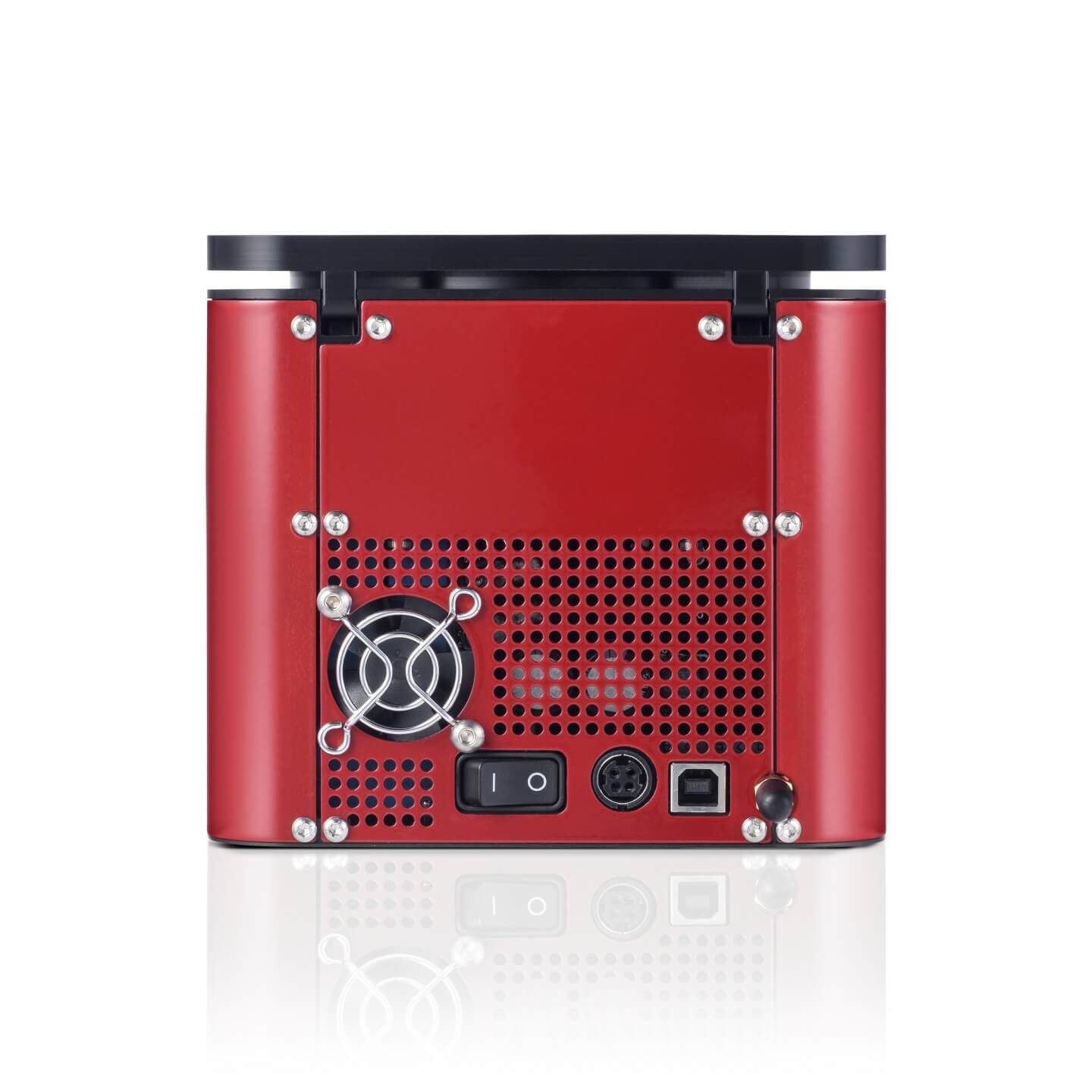 | | |
| --- | --- |
| Height | 130mm (265mm lid open) |
| Width | 150mm |
| Length | 150mm |
| Weight | 2 kg |
| | |
Temperature Accuracy
±0.25°C (60 – 95°C)
±0.50°C (otherwise)
Temperature Uniformity
±0.20°C
Ramp Rates
Heating 4°C/s (min.)
Cooling 3°C/s (min.)
Temperature Input Range
35 – 99°C (min. 40°C when cycling)
Detectors
Photodiode per channel
Excitation Sources
High power LED for each channel
Channels
Green
Ex 465nm
Em 510nm
Yellow
Ex 540nm
Em 570nm
Orange
Ex 585nm
Em 618nm
Red
Ex 635nm
Em 675nm
Acquisition Time
1 second
| | |
| --- | --- |
| Samples per Instrument | 48 |
| Reaction Volume Range | 5 – 30µL |
| | |
| --- | --- |
| Temperature | 18 – 35ºC |
| Relative Humidity | 20 – 80% |
Transport and Storage Conditions
| | |
| --- | --- |
| Temperature | 5 – 35ºC |
| Relative Humidity | 0 – 95% (no condensation) |